Customer Thermometer events
Upcoming events:
Exciting events to be added as soon as they are confirmed
Past Events:
Proud Sponsor of the 5 Star MSP summit | Hosted by the Service Desk Institute (SDI)| More information -> Click here
Event Overview
Date: 9 December 2021 @ 11AM (GMT)
​​​​Location: 100% virtual
Join this event to discover what best practice looks like for Managed Service Providers and learn some new tricks from these world-class service providers.
We'll be uncovering the 'secret sauce' of some of the world's most forward-thinking and technologically advanced service organisations, and delving into how the MSP community proactively shifts and transforms to continuously deliver outstanding 5 star service to customers.
The Best Managed Service Provider categories at the SDI Awards are some of the most highly competitive, highlighting the achievements of some of the brightest and best IT service providers. Rest assured we'll be bringing you speakers from some of our most forward-thinking MSP award finalists to share their stories of success.
Our session: 12:15-12:30
Our Session Overview
Graham Wall, Chief Revenue Officer, Customer Thermometer | 'Quick wins to measure Customer Satisfaction and promote MSP growth'
This session provides a brief overview of the state of MSP customer satisfaction and how measurement is often missed or at best limited to helpdesks. Without a strategy in place, MSPs miss valuable opportunities for growth and customer retention. Putting together a Customer Satisfaction programme shouldn't be drain on your business and Graham discusses some practical quick wins to start to easily collect feedback across your customer journey.
⚡The Service Desk Masterclass: How To Achieve Customer Excellence In 2022⚡
Date: 18 November 2021 @ 2PM (GMT)
​​​​Location: 100% virtual
Watch it on demand here 👉 Watch it NOW
With rising demands on service desks and new challenges emerging in 2022, it's more important than ever to stay in touch with rapidly evolving #customer needs. This 60 minute #masterclass we will equip service desk leaders to deliver #CustomerExcellence in 2022.
Prepare for the challenges and opportunities of next year by attending this live masterclass with world-leading experts and #ServiceDesk leaders. No vendor pitches. 100% Customer Service Experts.
Industry leaders from:
Aileen Allkins Consulting (Former Microsoft CVP of Customer Service & Support)
Openreach
Exclaimer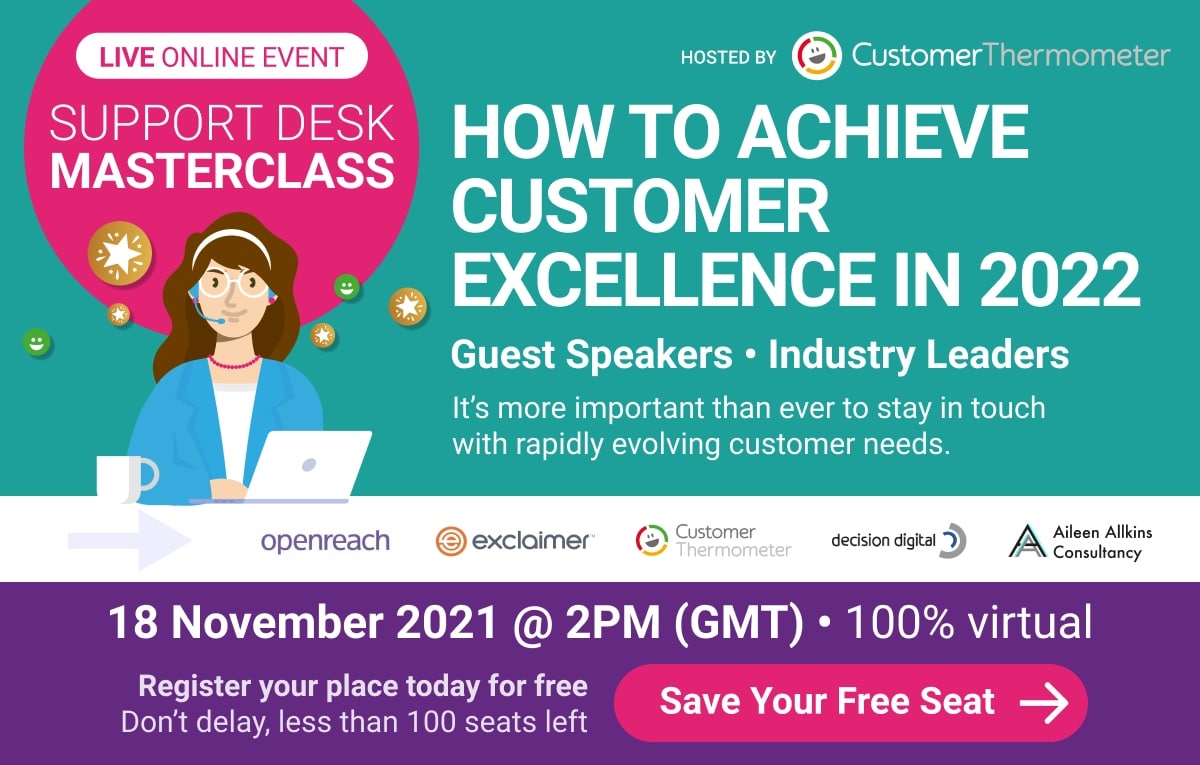 CompTIA EMEA Member and Partner Conference
Across the globe, companies are investing in innovation, cybersecurity, growth, and the future—and the business of technology is driving it all. Today's tech companies are hungry; they're hiring skilled IT professionals as well as adding cybersecurity solutions and emerging technologies that solve real customer problems. The 2021 CompTIA EMEA Member and Partner Conference is your chance to catch up live and in person to ensure your future success. Whether you're in the business of technology ecosystem or training and teaching tech skills, register now and don't miss a great chance to learn firsthand about the latest trends, network with peers and industry executives, and start planning for bigger and better things.
Dates: 6-7 October 2021
Location: London
Want to join us? Join here for free 👉 Free CompTIA tickets
Please use the event hashtag: #EMEACon
THE 20 VISION '21
VISION '21 isn't just a place to learn new ways of growing your IT business. It's a place to rediscover your passion and reconnect with the reasons you founded your MSP in the first place. Business owners have been through a lot in the past year, and we think you deserve to feel inspired again. That's why every aspect of VISION '21 – from the speakers to the venue to the theme – is geared toward reigniting your passion.
Join Customer Thermometer at #VISION21, a 2-day IT conference hosted by The 20.
We're sponsoring this year's event, so stop by our booth and say hello!
Dallas, TX | Live! by Loews | Sept 29-30
Register now: Vision 21 Registration

Signature Summit 2021
Catch the recorded Exclaimer Signature Summit 2021 to learn from industry experts in the technology and marketing ecosphere. Choose from over 20 sessions across three tracks and create your own agenda. To watch the recording: click here
Email in 2021: Turn Your Business Emails into a New Marketing and Feedback Channel
About this webinar
Every industry has relied heavily on email since the COVID-19 pandemic struck. Email has been the backbone on which businesses have continued to operate. We might all meet on Zoom, Microsoft Teams and Google Meet, but we transact and communicate through email in volumes never seen before.
In fact, email has fast become a key piece of real estate for customer communications. This opens up valuable opportunities to give marketing efforts an extra boost while increasing actionable feedback to improve customer satisfaction (CSAT) and reduce churn.
Join Maria Dahlqvist Canton, VP Marketing at Exclaimer, and Lindsay Willott, Founder of Customer Thermometer, to learn:
• Why reports on the "death of email" have been greatly exaggerated, with global volumes continuing to increase dramatically.
• How rapid behavioral changes has turned email into an even more important corporate communications channel.
• How business emails can carry targeted marketing messages and feedback opportunities more easily than other promotional channels.
• The three main ways to bring email and feedback together in order to garner much higher customer response rates.
• The business benefits that come from corporate email signatures and how they can open new doors for your organisation.
Bring Your CX Project To Life In An Afternoon
Need a customer feedback program? Is getting it moving tough and unwieldy in this environment? Get feedback flowing in an afternoon with our special edition webinar! 
Tune in to hear Martha Pawlica and Tom Knight, two of our highly experienced Client Directors, walk you through the simple steps you need, making it easy for you, your team and your customers.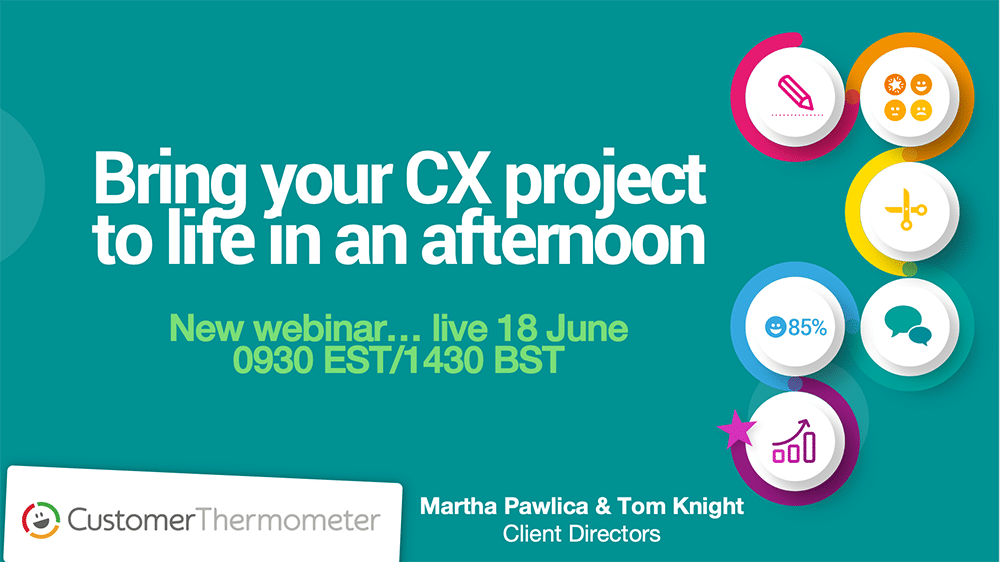 How To Get The Most From Your Customer Thermometer Reporting: Tips, Tricks and Spells from the Ministry of Magic
Hosted by Lily Blanchet, our Ministry of Magic support team will share their tips and tricks for getting the most out of our highly flexible reporting suite.
We also trail a very exciting new reporting development coming down the line soon! Streaming live on June 3rd 2020 at 0900 EST/ 1400 GMT.
SDI20 (The Conference for Service Desk Leaders)
We will be exhibiting Customer Thermometer at the SDI Conference when it's rescheduled. Keep on top of the new dates here
B4 Live Series: How to Go From Crisis to Recovery
Like most businesses, as the lockdown began, you probably experienced 10 years' worth of change in a single week. How is the economy likely to recover, and what will the customer of the future want from you?
Lindsay Willott, founder of Customer Thermometer, looks at what shape any recovery might be, and shares 6 ways to prepare your business for the recovery. The event is a 30 minute webinar, taking place on Monday 11 May 2020 at noon. Sign up for the online event here.
The 20 Vision Conference 2019
Lindsay Willott, our founder, is speaking at The 20's VISION Conference in Dallas, Texas between 27-30 October 2019 (Lindsay is speaking on 28 October).
Taking place at the OMNI Dallas Hotel, the conference features an excellent lineup of speakers and breakout sessions.
CompTIA Member & Partner Conference EMEA 2019
Customer Thermometer is exhibiting at the annual CompTIA EMEA show in London on 7 and 8 October 2019. Come and see us on Booth 18!
The Science of Customer Experience 2019
Our founder is speaking at this event, which promises thought leaders from the some of the UK's leading CX players as they discuss and explore best practices and innovations that are helping to fuel rewarding and profitable customer journeys.
The event is sponsored by Socketlabs, and will take place in London at the Royal Institution Science Museum on Tuesday 1 October from 2pm. You can grab a spot at the event by signing up here: www.socketlabs.com/london
Networking Events for Women
Our CEO, Lindsay, will be speaking at the Oxford NEW (Networking Events for Women) on Wednesday October 2, 2019. Taking place at the Randolph Hotel, Oxford. More details on the event are here.
The Modern Day Woman Show
Our CEO, Lindsay, will be a guest on The Modern Day Woman on September 28th, so look out for its release! More on the show here.
Kaseya Connect 2019
We are delighted to be sponsoring our partner Kaseya's flagship user conference Connect 2019 in Caesars Palace Las Vegas.
The event takes place between May 6 and May 9 2019.
Queen's Award for Enterprise Event 2019
Our CEO, Lindsay, is speaking at this event covering Customer Thermometer's experience of winning the Queen's Award for Enterprise for International Trade in 2019. The event takes place in Platf9rm, Brighton, UK on 22 May 2019. Tickets are free but limited and available from Eventbrite.
Business in Oxford 2019
We are speaking at the Business in Oxford (BIO2019) Inspire track on 6 June 2019 about how to grow and scale a new business. The event takes place at the MINI Plant in Oxford and tickets are available from the BIO site.
Forrester CX NYC 2019
We'll be exhibiting at Forrester's CX NYC event on 11 and 12 June 2019.
Taking place at the New York Hilton Midtown, this flagship CX event carries over 30 sessions for 1300+ delegates. See you there.
Technology & Marketing Innovation Forum 2019
Our CEO, Lindsay Willott, is speaking at Computing's Technology and Marketing Innovation Forum on 14 June 2019 in London.
She will cover her top tips on creating an inbound marketing machine for technology marketers and companies. Tickets are available for the Forum on their site.
Networking Events for Women (NEW)
Our founder, Lindsay Willott, spoke at the NEW event, held in Milton Keynes in celebration of International Women's Day, on 11 March 2020.
To mark International Women's Day NEW is collecting unwanted, good quality women's work wear which will be distributed by Sharewear. The charity supports those who really don't have anything to wear. We'd like to help those who need suitable clothing for job interviews or work – so if you have any business wear that you no longer need or want, and you're coming along on 11 March, please bring it along and we will pass it on to the charity.
Oxford Hospitals Charity OX5 Run
Our founder, Lindsay, will be running 5 miles at Blenheim Palace for the Oxford Children's Hospital charity, at the OX5 Run on 29 March 2020. Our longest-standing customer, Allen Associates are sponsoring the event, which raises money to look after thousands of children with cancer and is a cause we are proud to be supporting; we would love for you to take a look at the work they do.